| | | |
| --- | --- | --- |
| | &nbsp &nbsp &nbsp &nbsp &nbsp &nbsp &nbsp &nbsp &nbsp &nbsp &nbsp &nbsp | Sampler Quilts |
&nbsp &nbsp &nbsp &nbsp
A sampler quilt is a great way to use up fabrics. You can use a collection of fabrics to make it coordinated, or just use up similar scraps. Then you can pull it all together with sashing and borders.

This is my newest sampler quilt, my 2011 BOM sampler. My quilt only has 12 blocks because I ran out of the fabrics I was using, and I was happy with the size (42 by 58).
I will sell this quilt for $250. You may click on the photo to see a larger version. Use your browsers back button to return to this page.
| | |
| --- | --- |
| In this sampler I used different Aunt Grace 30's reproductions and different white-on-whites for each block. This was the first bed size sampler I ever made, and is one of my favorite samplers. &nbsp &nbsp &nbsp Not for sale | |
Here is a diagram of the blocks in my Star Sampler, by columns from left to right, top to bottom.
Column one:

Friendship with a 4 1/2 inch Hunter Star corner, Ohio Star, Nancy's Star, six inch Ohio Star, six inch Floating 8 Point Star, Ann's Star
Column two:

Comet Star, six inch Spinning Star, six inch April Star, Sawtooth Star, Comet Star, Hunter Star
Column three:

Spinning Star, Clays Choice, six inch Eccentric Star , six inch Ann's Star, April Star, No-Name Star
Column four:

Ann's Star, Floating Eight Pointed Star, April Star , six inch Comet Star, six inch Friendship Star, Friendship star with Sawtooth Star in the corner

Click on it to view a larger version.
Approximately 60 by 70, made from prewashed 100%cotton. $500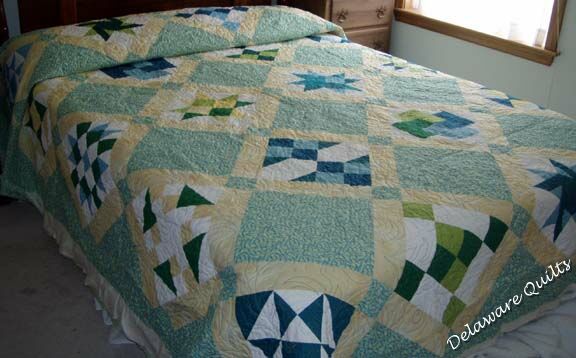 While I was BOM chairperson at my local guild, I challenged the ladies to make one of each block for themself,
and make a quilt from it at the end of the year. Here is my quilt, made from more than one of each block.
King Size, made from prewashed 100% cottons. $800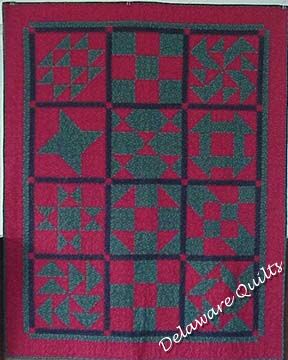 This sampler was made as a teaching tool,
along with a group of ladies who were making
their own samplers. I gave them the fabric for
trial diagonal half squares and diagonal quarter
squares. Later I put together these blocks from
their finished squares, and then this quilt. It was
raffled off at my guilds annual Holiday Auction.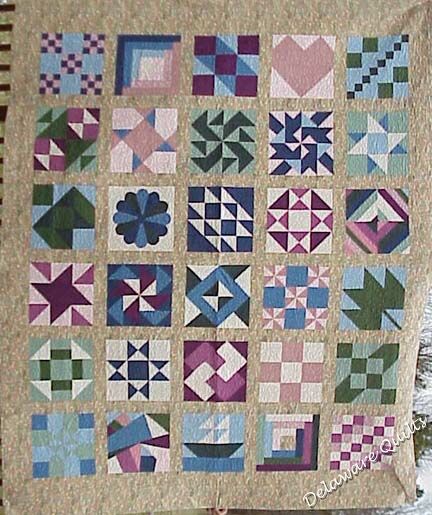 This sampler was made along with the ladies in that same sampler class. I find the sampler quilt a versatile teaching tool, perfect for beginners and the more advanced.

Row one: Nine Patch Chain, Log Cabin, Contrary Wife, Heart Block, Carrie Nation Quilt

Row two: Schoolgirl's Puzzle, Stellie, Yankee Puzzle, Windmill, Spinning Star

Row three: Darting Birds, Dresden Plate, Hovering Hawks, Swamp Angel, String Block

Row four: Eccentric Star, Dutchman's Puzzle, Blockade, The Windmill, Maple Leaf

Row five: Double Monkey Wrench, Aunt Eliza's Star, Card Trick, Simple Nine Patch, Road to Oklahoma

Row six: My Own Block, Crazy Patch, Sail Boat, Log Cabin, Nine in Four
This quilt is not for sale
| Home | Family | Relay | Quilts | Blocks | Projects | Retreat | Email |

Updated June 13, 2014

Copyright © Delaware Quilts.
The content on these pages, including text and images are the sole property of the Delaware Quilts and may not be used or reproduced in any manner without consent. All Rights Reserved.