&nbsp &nbsp &nbsp &nbsp &nbsp &nbsp &nbsp &nbsp &nbsp &nbsp &nbsp &nbsp

Delaware Quilts
My Quilting Photo Journal


In 2013 I started sharing my quilting history in photo journal form. With each new page I've shared a free pattern to one of my quilts from that year. That will continue for a few more months until all of my quilts are posted. Below is a brief beginning history, the history for 2012 and a link to all the other years.


Please note as you view these photos, the sizes may not be all proportional. You might see a quilt that looks as small as a wall hanging or vice versa.


#1
&nbsp &nbsp &nbsp &nbsp &nbsp &nbsp
I began quilting in 1974 while working at Minnesota Fabrics in the Washington DC area. The home economist was required to do a quilting demonstration and was looking for help. It sounded like fun to me, so I volunteered.

The pattern I picked for my first ever quilt project was the Lone Star because we'd recently moved from Texas. This was pre-rotary cutters and I never heard of plastic for templates, I wasn't real sure what a template was period. As soon as I realized I was over my head in skill level, I picked another pattern, a log cabin. That went quite easily, so I picked another one, a churn dash. Before the demonstration was held I had finished four different quilt projects, but not the Lone Star.

The Lone Star wasn't finished until about a year later. Then I didn't know what to do with it, so I "framed" it. It was cool when I did it, not so much now, but I'm glad I still have it. It shows me where I started and how much I've improved.

I made a few quilted pillows, then a baby quilt, and then more baby quilts.. and so on and so on.
To say I was hooked was an understatement. I've been quilting ever since. I started teaching in 1983 when a friend asked me to show her how to make a Dresden Plate. Then I showed her friend, and then another, and so on. I "retired" from teaching in 2010 due to heath issues and now do all of my teaching on line and at the Retreats.

Seeing a student's satisfaction when finishing a quilt gives me great happiness. I find more personal satisfaction teaching someone else to make a quilt than making it for them. However I am occasionally talked into making a quilt for someone.

Quilts that I make for classes are given away as gifts to family and friends, and to local charities. I don't make museum quilts, but quilts to be used. It gives me great pleasure to see my quilts worn out


Here is my history from 2012...
| | | |
| --- | --- | --- |
| I declared 2012 as My Year to Give. My plan was to post free patterns on the web site and try to make a few quilts using that pattern myself to give as charity quilts. In January I made heart quilts and found myself using some of the uglies collected from the fall retreats of 2011. The pink on the left used some so called ugly floral fat quarters. | &nbsp &nbsp &nbsp &nbsp &nbsp &nbsp &nbsp &nbsp | #439 |
These quilts were the February project, Jacob's Ladder and the one on the left used some more of the donated uglies. I don't think the quilt is ugly at all. The one on the right were left over green scraps.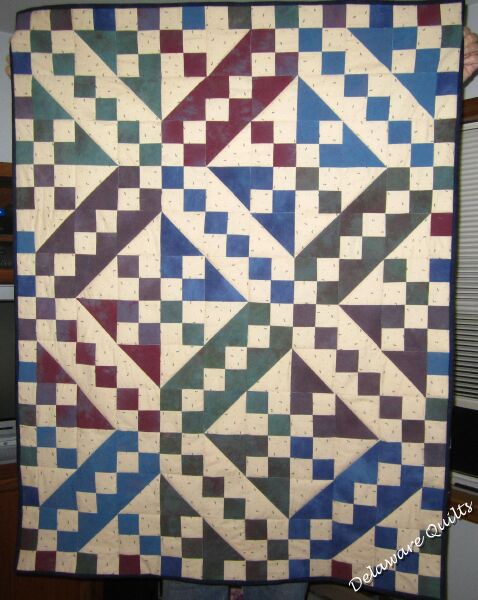 #440&nbsp &nbsp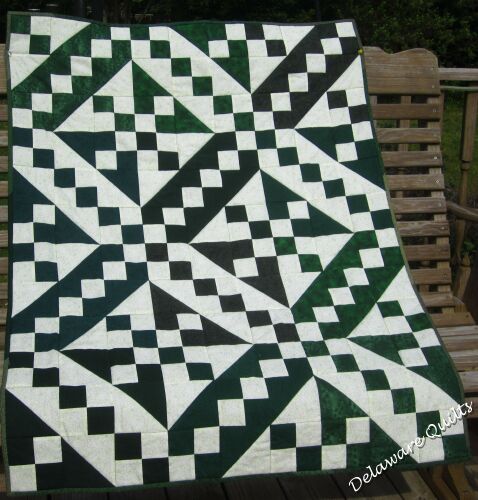 #441


#441 is another one of the heart quilts I made for January. This one was donated to charity also.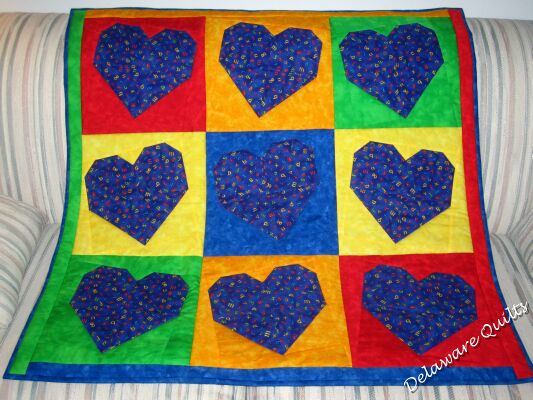 #442


Quilt #442 is another heart quilt and another one which used up some of those so called uglies. I think this is one of my favorites.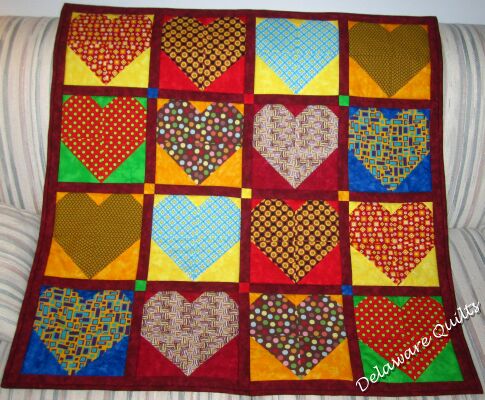 #443


When my friend Marge decided to clean out her sewing space she sent me another box of her UFOs. That was followed shortly by another box. Now why she thought I would finish them was funny, but I decided as a change of pace I'd work on her UFOs instead of my own. Maybe she knows me better than I do?

I found a lot of nine patch blocks (some of my own and some of her's) and some fabric squares the same size from her stuff and made them into these three little quilts for charity.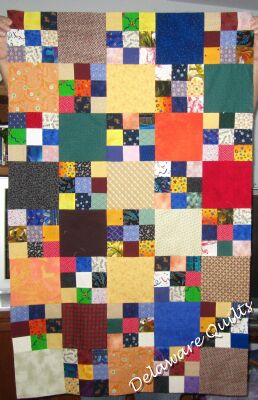 #444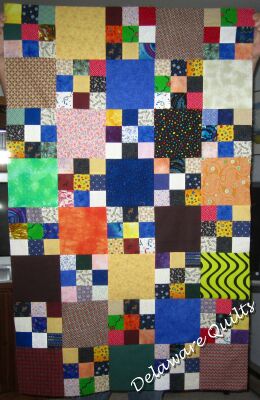 #444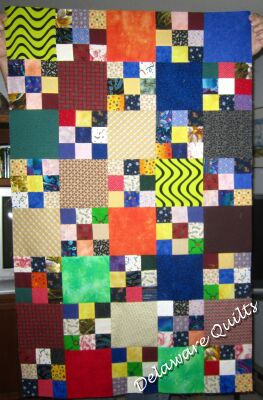 #444


I made two nice size lap quilts from her pioneer braid strips which were donated to Linus.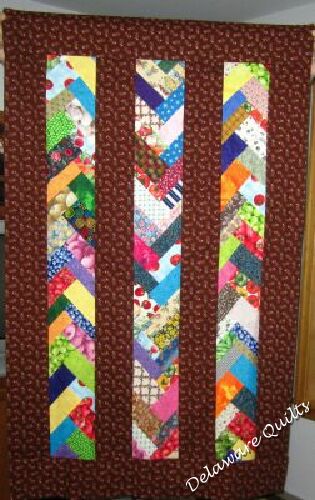 #445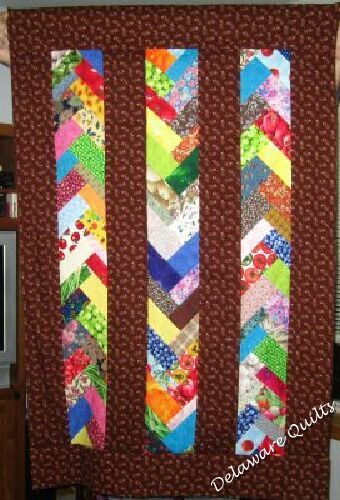 #445

Her Bricks and Blocks were put together then finished and sold to raise money for Relay For Life.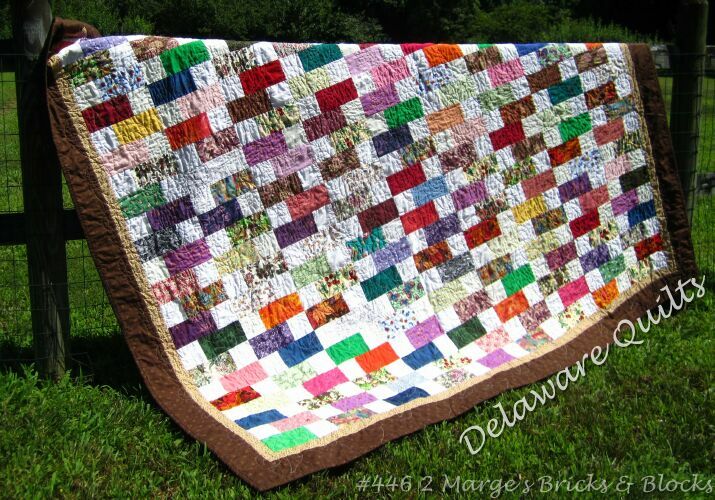 #446


| | | |
| --- | --- | --- |
| #447 | &nbsp &nbsp &nbsp &nbsp &nbsp &nbsp &nbsp &nbsp | These were swap blocks that I guess she didn't have enough of to do anything with, so I put them all together into one quilt since they were all the same size. This one was also donated to Linus. |
In one of the boxes were lots and lots of triangle squares (aka DHSs aka HSTs) which got put together into this lovely pinwheel quilt.

#448

&nbsp &nbsp



#449 Wonkey Squares is not to be shown yet, I plan to use it as a mystery someday.



This is my World's Fair sample #1, another one of my 2012 Year of Giving projects.
I made this one at the 2012 Spring Retreat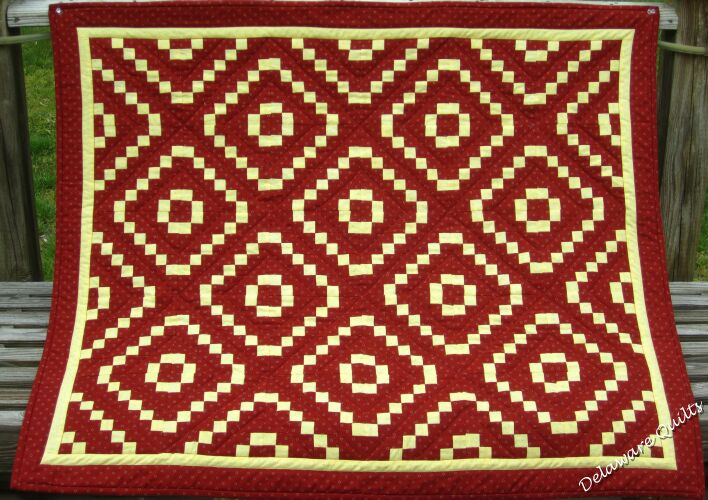 #450


These two little 3D Bow Tie quilts will be quilted and donated to charity also.
The 3D Bow Tie block was the March 2012 Giving project.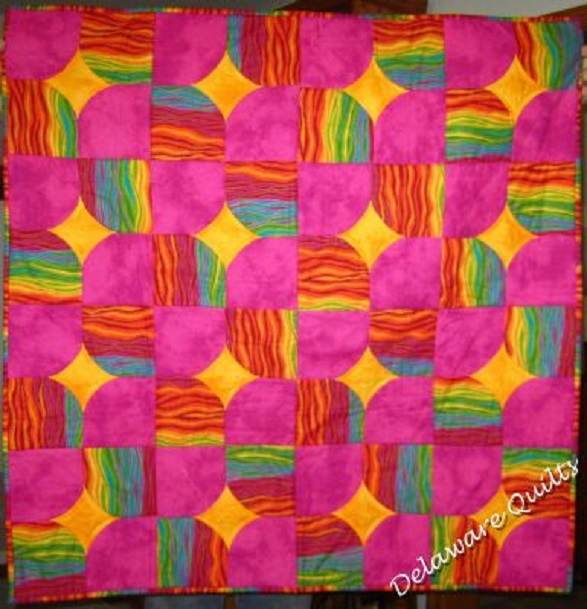 #451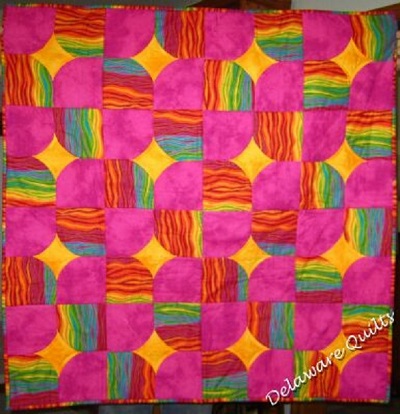 #452


| | | |
| --- | --- | --- |
| #453 | &nbsp &nbsp &nbsp | Carrie Nation was the June 2012 Giving project and this quilt was donated almost as soon it was finished to the Sussex Pregnancy Care Center. |
| | | |
| --- | --- | --- |
| Way back when I made several miniature quilts for AAQI, Marge asked me to make her a little basket quilt too, and I promised her I would. It was fun to do and I'm happy she likes it. | &nbsp &nbsp | #454 |
#455
&nbsp &nbsp
This is my World's Fair sample #2. This one was sold to raise money for Relay For Life.

This is a very easy pattern and makes what I think is a lovely quilt, any size. I'm sharing my pattern for this here.
| | | |
| --- | --- | --- |
| Digging into my own UFOs I found some squares that were cut from a panel when I made Cameron's quilt (#173 in June 1998) I decided it was time to put them to use and made this. It will be quilted and donated to charity too. | &nbsp &nbsp &nbsp &nbsp &nbsp &nbsp | #456 |
Below are my Sailing Ships #457, #458 & #459



At the 2012 Spring Retreat Janet showed one of the quilts she was working on and I had to make one…
I've actually made three, below are two of them.


#460
Janet's quilt mixed
#461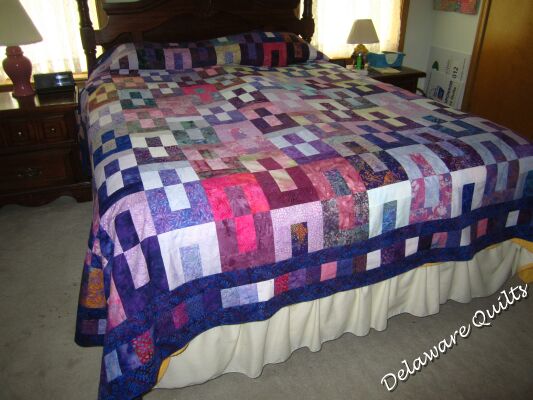 Janet's quilt purples








Links to other years and the projects that went with each one.



The beginning (1974 to 1996)

There are two free projects to go with the first page in my quilting history, Trip Around the World and Trip Around the World scrappy version.


A project I did back in 1997 was Scrappy 9-patces And Snowballs


A first in 1998 were tessellations. For this month's project I'm sharing an updated version of a tessellated baby quilt.


In 2000 I made a Ribbon Quilt wall hanging, and a miniature Ribbon Quilt too. I'm sharing my instructions for a Ribbon Quilt baby quilt here.


I started making miniatures in 2001 and have made many since then for many different reasons. One of my favorite to make is Miniature Baskets, so I'm sharing that pattern with you now.


Speedy Strips© was started when my son asked me for an "ugly" quilt when he went off to college in 2002, "You know Mom, one no one will want to steal." I saw it was a way to use up scraps, and it certainly did. I'm sharing it with the www now so we can use up some of those scraps we've created, and make some lovely but hardly "ugly" quilts!


Folk Art Hearts is one of my favorites from 2003, so I'm sharing that project with the world now. I still want to make that baby quilt


Among other quilts I made in 2005 was a Floating Churn Dash. The quilt I made can be found here and the free pattern for the Floating Churn Dash can be found here.


Fed up with losing points and wanting something a little whimsical, in 2006 I created Crooked Stars. It's fun and easy, and now you can make one too, here's the pattern.


2007 could have been called the year of the scraps, because I used up a whole bunch of them. The pattern Simply Squares was made to help a friend make a quilt, and I ended up making six of them myself. Caution, this is a large PDF and may take a while to load, but it's worth the wait I promise.


2008 was the start of Mysteries For Relay, a new FUNdraising adventure for me. I decided to use my patterns as a fundraiser for Relay For Life. I'd offer new mysteries (or if you don't like mysteries you can wait for the full pattern) every six weeks or so in exchange for donations. The group is still going strong and it has been great fun and a great fundraiser too. This month I'm sharing our first mystery project, Tessellated friendship stars.


I had a hard time choosing a favorite pattern from 2010 and decided finally on Any Size You Want, because you can make it any size you want. Enjoy!


Since I have used this block in more than three quilts I guess it was a favorite of 2011. Here's the project page for Jack in the Box.


I made two World's Fair quilts in 2012 because it is a very easy pattern and makes what I think is a lovely quilt, any size. I'm sharing my pattern for it here.



Updated March 1, 2014


| Home | Family | Relay | Quilts | Blocks | Projects | Retreat | Email |

1172